Raiders Day Two
With the No. 42 overall on day two from Florida State the Oakland Raiders select offensive tackle Menelik Watson.
Watson (6-foot-5 1/8, 310) began his college career playing hoops at Marist before transferring to JUCO and finally landing at FSU for his senior year.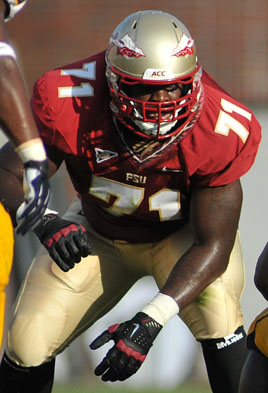 He started 12 games at right tackle for the Seminoles and allowed just one sack. But had disappointing measurable's in the Combine and wasn't great at Florida State Pro day either.
Watson may just need to put more mass on his built but has incredible upside and will ultimately fit on the right side of the Oakland offensive line.
With the No. 66 overall pick the Raiders selected Connecticut LB Sio Moore.
Moore comes into the Oakland after racking up a team-high 15.5 tackles for a loss, eight sacks, and 11 pass breakups at outside linebacker for the Huskies last season. For his college career he recorded 274 total tackles.
He's an explosive athlete off the ball,in the Combine he ran a 4.65 with a 38-inch vertical and 10-foot-7 broad jump.
Moore is a lethal pass rusher with excellent versatility and talent at playing essentially any linebacker position. Moore will fit right in where the linebacker core needs it the most and will compete for a starting job.
According to Raiders head coach Dennis Allen said "Moore plays on the outside, either at the strong-side or weak-side spot." Moore can also become a vital part of special teams unit.
Oakland's staff first-set eyes on the pass-rusher in the Senior Bowl where they must fall in love with him. During the game Moore picked up a sack.

Allen knows more loves football and spent a week learning about his character and his abilities in the Senior Bowl week.

Moore is a great guy to have in your locker room according to the Raiders staff that get along well. He was hoping to get picked by Oakland and said "my family all wore black today." Now that's a true Raider.
So Moore wasn't too thrilled about that he didn't get picked until 3rd round and he said
"the Raiders are getting a pissed-off linebacker. No one will out-work me."